Overview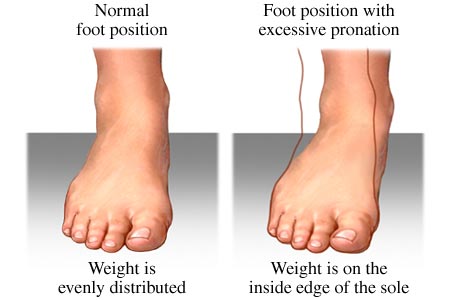 The term "hallux valgus" or "hallux abducto-valgus" are the most commonly used medical terms associated with a bunion anomaly, where "hallux" refers to the great toe, "valgus" refers to the abnormal angulation of the great toe commonly associated with bunion anomalies, and "abductus/-o" refers to the abnormal drifting or inward leaning of the great toe towards the second toe, which is also commonly associated with bunions. It is important to state that "hallux abducto" refers to the motion the great toe moves away from the body's midline. Deformities of the lower extremity are usually named in accordance to the body's midline, or the line bisecting the body longitudinally into two halves. In more severe cases, the hallux continuing in the abductus fashion eventually either overlaps or underlaps subsequent lesser (small) toes especially the second (adjacent toe).
Causes
Women are particularly at risk for bunions, as high heels may help aggravate the condition. Bunions may also be caused when bursal sacs, sacs that absorb friction and lubricate the many tendons, bones muscles of the body, in the foot become inflamed or swollen. Bunions may also be prompted by the metatarsal bone, the bone that runs from the heel to the toe of the foot, with one metatarsal bone leading to each toe, of the big toe enlarging or deviating slightly to the outside of the foot.
Symptoms
Patients with bunions will often display pain over the prominent bump on the inside of their forefoot (the medial eminence?). However, they may also have pain under the ball of the foot (under the area near the base of the second toe). Symptoms can vary in severity from none at all to severe discomfort aggravated by standing and walking. There is no direct correlation between the size of the bunion and the patient?s symptoms. Some patients with severe bunion deformities have minimal symptoms, while patients with mild bunion deformities may have significant symptoms. Symptoms are often exacerbated by restrictive shoe wear, particularly shoes with a narrow toe box or an uncomfortable, stiff, restraining upper.
Diagnosis
X-rays are the best way to determine the amount of deformity of the MTP joint. Blood work may be required to rule out other diseases that may be associated with bunions such as rheumatoid arthritis. Other tests such as bone scans or MRI's are not usually required.
Non Surgical Treatment
Pain is the main reason that you seek treatment for bunion. Analgesics may help. Inflammation it best eased via ice therapy and techniques or exercises that deload the inflammed structures. Anti-inflammatory medications may help. Your physiotherapist will use an array of treatment tools to reduce your pain and inflammation. These include ice, electrotherapy, acupuncture, deloading taping techniques, soft tissue massage and orthotics to off-load the bunion. As your pain and inflammation settles, your physiotherapist will turn their attention to restoring your normal toe and foot joint range of motion and muscle length. Treatment may include joint mobilisation and alignment techniques, massage, muscle and joint stretches, taping, a bunion splint or orthotic. Your physiotherapist is an expert in the techniques that will work best for you. Your foot posture muscles are vital to correct the biomechanics that causing your bunion to deteriorate. Your physiotherapist will assess your foot posture muscles and prescribe the best exercises for you specific to your needs. During this stage of your rehabilitation is aimed at returning you to your desired activities. Everyone has different demands for their feet that will determine what specific treatment goals you need to achieve. For some it be simply to walk around the block. Others may wish to run a marathon or return to a labour-intensive activity. Your physiotherapist will tailor your rehabilitation to help you achieve your own functional goals. Bunions will deform further with no attention. Plus, the bunion pain associated does have a tendency to return. The main reason is biomechanical. In addition to your muscle control, your physiotherapist will assess your foot biomechanics and may recommend either a temporary off-the shelf orthotic or refer you to a podiatrist for custom made orthotics. You should avoid wearing high heel shoes and shoes with tight or angular toe boxes. Your physiotherapist will guide you.
Surgical Treatment
Complications of bunion surgery are not common, but include infection of soft tissue and/or bone, slow healing of skin or bone, irritation from fixation pins or screws, nerve entrapment, reaction to the foreign material (suture material, pins or screws), excessive swelling, excessive scarring, excessive stiffness (some stiffness is unavoidable), over-correction (hallux varus) and recurrence of the deformity. Rarely, some complications may require a second surgery to correct the problem. While these complications are rare, they should be weighed against the difficulty that you are experiencing to determine whether surgery is an acceptable risk for your condition. This is an important part of the process.
Prevention
Make better shoe choices. If you?re a woman, avoid high-heeled footwear whenever possible (at the very least, choose shoes with heels lower than two inches), and make sure all your footwear has a wide, deep toe box. Whether man or woman, if you?re trying on shoes and your toes feel ?squished? or crowded by a particular shoe, reject that style and try another, or go for a larger size. You don?t need to invite trouble. In general, shoes that come to a point at the toe are bad news, as they tend to push the toes together into an overlapping pattern. Shoes with rocker soles will unload pressure on the bunion area. Examine your feet regularly. Note any redness, swelling or discoloration. Flex your toes and check for any stiffness. If there is any, think back to what you?ve worn or done in the past few days. If the condition persists more than a few days, or worsens, a visit to the podiatric physician is in order.